Friday, October 30th, 2009
While I am the first to appreciate that the issues facing small businesses and legal issues are very important, some times it's necessary to stop and smell the roses … or drink the magic potion … and this is one of those times.
For those of you who are not aware (and I'm sure it's many of you – because I only learned about it listening to the cultural news on Premiere Chaine (French CBC) on the way home today and it doesn't seem to have been a blip on the radar screens of the English Canadian media), today is the 50th anniversary of Asterix, that plucky little Gaul whose Roman-bashing exploits have been a hit (pardon the pun) for kids for years.  As a child I enjoyed reading about Asterix' and Obelix' adventures in both English and French and it's obvious that I wasn't the only one.  Funny, he doesn't look a day over 30!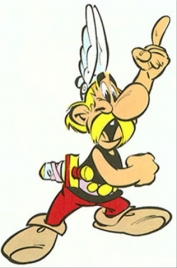 For those of you who are interested, the Asterix web site in English is here and the web site in French is here.
Happy birthday to one of my original heros.  Tonight I'll take a sip of potion and tomorrow I'll be back on the lookout for more serious issues to put in a post.
CALC